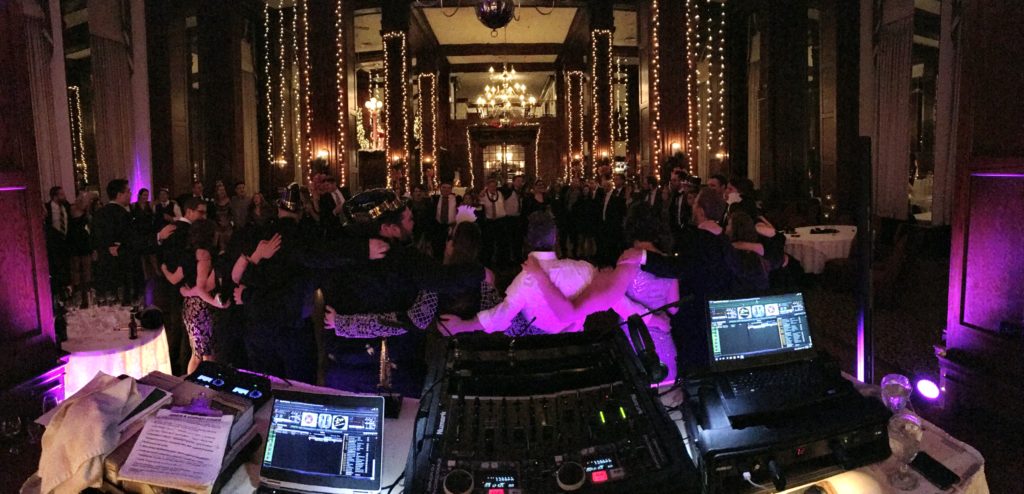 Great music starts with state-of-art-line sound...
Music makes the party, and great sound -- created by a crystal-clear, professional-grade audio system -- is what makes that music.
My primary audio system is built around two Bose L1 Model 2 Audio Towers. Great sound doesn't come cheap, but the renowned Bose audio is worth every penny! Unlike traditional floor or tripod-mounted loudspeakers, these Audio Towers feature Articulated Array speaker technology for better tonal balance. The L1's 24 vertically mounted speakers are angled to create clearer highs and more consistent tone in the room. The lightweight B2 Base Modules can be tuned to each individual space and provide plenty of lows without overpowering listeners. Instead of the piercing, "in your face" sound of traditional loudspeakers, the Bose L1 system envelopes the entire listening space, allowing all guests -- even those off to the sides of the speakers or in the corners of the room -- to enjoy well-balanced, detailed sound. Because of their design however, these Bose Audio Towers require a flat, completely level area (4' X 4' for each Tower) for setup. Not a problem in a hotel ballroom, but certainly a consideration for setting-up in a temporary location (i.e. under a tent setup in a backyard) or in an older structure such as a barn.
When providing ceremony music in a location or space away from the reception area (where my primary Bose system will already be setup and ready to go), I employ my smaller, secondary Peavey Escort 3000 sound system. With a wide-selection of audio inputs for microphones, digital music players, and even musical instruments, this professional, easily-transportable system is ideal for wedding ceremonies. Ceremonies are always more enjoyable -- and memorable -- when guests are able to hear what's going on. For that, I provide a high-quality Shure wireless "headset" mic for your officiant (bride & groom are heard off of this mic) as well as a second Shure wireless mic on-stand for readers, singers, and as a backup for the headset mic.
Finally, my American Audio ELS GO 8BT Powered Speaker comes in handy for providing music on a USB drive or laptop for cocktails held in yet a separate room from both the ceremony and reception locations.
Music for dinner and dancing is played on two Windows 10 laptops (primary & backup units) utilizing OTS AV DJ software. My primary audio system includes a top-of-the-line Shure wireless handheld mic which I use for all of my announcing as well as for Best Man/Maid of Honor Toasts, Blessing before the meal, etc. Clients are welcome to provide any special music to me in digital format (MP3 preferred) or CD Audio.
***************************************************************
(Below) My two Bose L1 Model 2 Audio Towers and lighting package of eight (8) Chauvet EZpar 64 uplights setup and ready to go at a New Years Eve Wedding in the Ballroom of the Clarion Hotel Morgan in downtown Morgantown, WV December 31, 2016.