More than 150 pre-registered brides and their families and friends attended the 2018 "Ultimate Wedding Expo" put on by The Journal newspaper. 60+ vendors encompassing almost every wedding service/need filled the show floor, presenting brides the unique opportunity to lock-in pretty-much everything needed for their Big Day, all in one day and under one roof.
The long-running Expo, the Eastern Panhandle's largest bridal event, moved to a new home this year, the 215 Monroe St. building in Berkeley Plaza, the former home of Big Bucks Bingo. While the notion of holding an upscale show like this in a former bingo hall caused some hesitation on the part of vendors and attendees alike, The Journal staff and a handful of decorating and lighting professionals did an OUTSTANDING job transforming the 19,000 square feet space. The ample parking, easy access, and wide-open vendor spaces and aisles afforded by this year's venue were a welcome and positive change over previous years!
Expo doors opened at 1:00pm as brides and attendees streamed-in to visit with the many vendors and take-in product and services demonstrations. At 3:00pm, The Valley Bride in Winchester, VA and Historic Rosemont Manor in Berryville, VA treated attendees to a top notch Fashion Show, featuring the latest in both women's and men's wear for the 2018 and 2019 wedding seasons. Door prizes and give-aways took place throughout the afternoon, with "The Big Stuff" getting handed-out after the Fashion Show. "The Big Stuff" included a $500.00 "Girl's Weekend Getaway" from the Hilton Garden Inn in Martinsburg, $500.00 off Rental Equipment from the Grand Event Center, $1,000.00 off a Wedding Dress courtesy of The Valley Bride, a one carat Diamond Pendant from R. Bruce Carson Jewelers, $500.00 cash from The Journal, and a 3-day / 2-night Honeymoon courtesy of The Journal.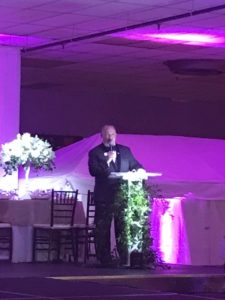 I once again served on-stage as Master of Ceremonies for the event, with Jeff Baker of "Let The Good Times Roll" DJ service providing the sound and music for the Fashion Show. Jeff and I have teamed-up on The Expo for 20+ years now, and it's always a great time! I also debuted my new Banner Stand display at the show featuring photographs from my October 27, 2017 wedding with Lauren Nicole King from A Natural Portrayal Photography. Lauren is one of my favorite wedding photographers and her shots look spectacular on the display!  Undoubtedly my favorite part of the show and exhibiting is the opportunity to share my services, experience, and knowledge with prospective brides and visit with my currently booked brides who I'll be working with in the upcoming months on their special day 🙂
Pam Fawley-Martin and her staff at The Journal always do a spectacular job planning and executing The Ultimate Wedding Expo, so you can be assured big plans are already in-the-works for 2019! We won't know the exact date and location (hopefully back at 215 Monroe Street) for the 2019 Expo for quite some time, but it's never too early for new vendors to lock-in their space. Easy to do by contacting Pam at (304)263-8931 Ext. 117 or via e-mail.
Hope to see you at the 2019 Ultimate Wedding Expo next February!