Poodle skirts, leather jackets, 45 RPM records hanging from the ceiling, a few "ducktail" hairstyles, and a Tap House transformed into an authentic 1950's Dance Hall. Such was the scene for the 4th Annual Eastern Panhandle Empowerment Center "Sock Hop" held Friday, February 22nd at the Town Run Tap House in Shepherdstown, WV.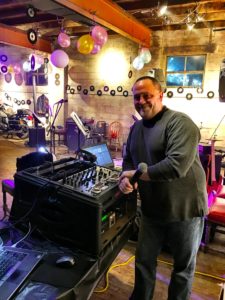 Volunteers from across the Eastern Panhandle came together to donate their talents and services with the goal of assisting the victims of domestic violence and abuse in our community.  Town Run owner Todd Cotgreave provided a wonderful venue. Decorations envisioned by Shepherd University students under the direction of Director of Student Activities and Leadership Rachael Meads took everyone back in time. Local businesses and private donors graciously donated Raffle and Silent Auction items.
Guests arriving early at 6:00pm received professional dance instruction from Kyle & Bonnie Pullen, who made certain everyone looked the part on the dance floor when we kicked-off at 7:00pm. Throughout the next four hours, guests enjoyed the live sounds of The New Rocketeers Band along with yours truly spinning the digital hits of the 50's & 60's on our twin Bose L1M2 audio systems. Along the way, we raffled-off a donated keyboard and bid on the wonderful Silent Auction items.
All-in-all, a fun-filled night raising money for a true need in our community. Says Rita Nieman, Chair for the event and EPEC's Community Advisor, "The music was right on. The New Rocketeers, under the leadership of Nathan Biedzynski, kept us rocking, as they alternated throughout the evening very smoothly with Rick Rohn of Rick Rohn Disc Jockey Productions. Rick not only provided terrific music, keeping the dance floor full through out the evening, but he also was a great spokesperson and encourager for our Silent Auction and Raffle Sales."
For more information on the "Sock Hop" and the services offered by the Eastern Panhandle Empowerment Center, please call (304)263-8522 or visit their website.
Many thanks to Mark Muse for his wonderful images from the 2018 event!